We need your help to start over. Here's our story:
In The Beginning…
Since 2012, Gothic Hills Cemetery has been haunting the San Fernando Valley, collecting donations of non-perishable food and pet supplies for local food banks and animal shelters. Gothic Hills Cemetery got it's name in 2012, but we were haunting our local neighborhood wherever we were since the early 2000's and even before that in other ways. This year, we officially started our 501(c)3 non-profit, the Gothic Hills Foundation, whose purpose is to continue our charitable work through family friendly community events. But a couple of years ago, things went dark… read on to find out more…
2008 Early Days of Yard Haunting
2012 – Winifred's Kitchen becomes the centerpiece.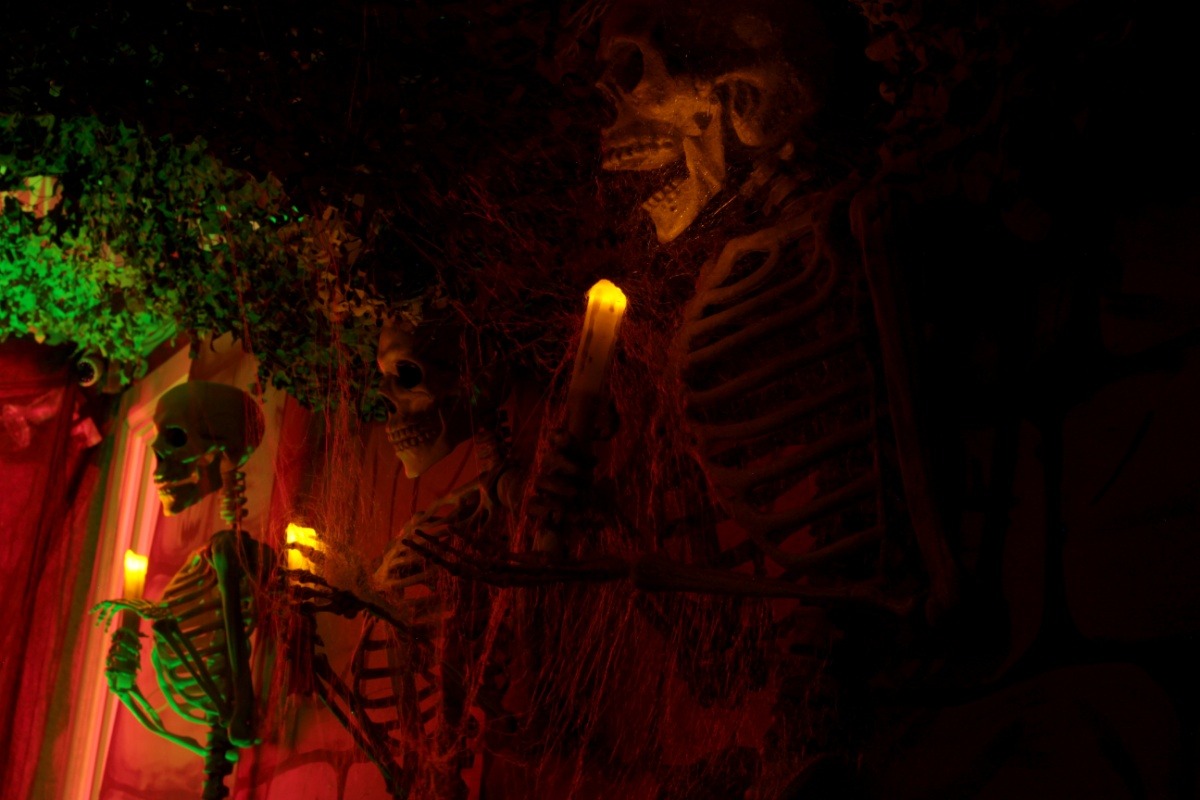 2014 – Our first full walk through haunt.
CLICK HERE FOR THE FULL HISTORY OF GOTHIC HILLS CEMETERY IN PHOTOS
For the 2016 season, we grew to our biggest haunt ever, welcoming over 660 guests and collecting over 180 lbs of food for donation, with a team of only 5 people. The story of the Fitzroy crypt was a big hit and we accepted an invitation to showcase our haunt at Midsummer Scream and we were so excited to be reaching so many! We were floored when we were nominated with some of our favorite haunts for Hollywood Gothique's best home haunts in 2016
Then…

In the spring of 2017, with very little notice, we were surprised to learn our lease would not be renewed on our home and would need to find a new place to live. Moving unexpectedly meant that we  were forced to get rid of 95% of our haunt, including some of the big things we had just created. Thousands of dollars and over a decade's worth of work and collecting home-made props, wall panels, special effects, were all re-homed and we thought it was over. We had to pull out of Midsummer Scream.
The next year, we didn't have much left of Halloween, but we did decorate the front yard of our new home with the few pieces we kept. In 2018 we decorated again with a few new effects in the yard, and were surprised by visits by a few fans who remembered us from 2016, and we started wondering if we could start all over.
2016 – Our biggest haunt yet! The Fitzroy story is born and Balthazar takes us into the crypt.
2016 – Not everyone makes it through…
2016 – Winifred gets a massive upgrade and included in the walk-through instead of stand-alone.
2016 – A surprise ending hidden within these walls.
2016 – The pumpkin patch is there for the little ones.
CLICK HERE FOR THE FULL HISTORY OF GOTHIC HILLS CEMETERY IN PHOTOS
So here we are.
After a few meetings, lots of drawing, and another invitation to participate in Midsummer Scream, we're going to tell more of the Fitzroy's story this year. At Midsummer Scream, we gave you a present-day recap of Julius Fitzroy's story so far, with all new effects and story framing. This Halloween, we're going to go all out with even more of the Fitzroy saga. Building began in February, and we need more materials for Hallowe'en.
2019 is coming.
But we need your help.
We want to continue contributing to the community through family entertainment and donations to local charities. Getting back into the spirit will be expensive for us. We've saved up a significant seed fund, but the haunt will be much more spectacular with your support. We've set a goal to raise $2500 by  February 28th, which is much less than what it would cost to regain what we've lost, but it's what we feel is realistic. We will be filling in the blanks ourselves. If you're looking to help in other ways, we're also accepting donations of Halloween and building materials, and also need local volunteers! Just visit our website at www.GothicHillsCemetery.com  for information about that.
The Gothic Hills Foundation is a Non-Profit Community Organisation.
Gothic Hills Cemetery is an event organized by the Gothic Hills Foundation, a non-profit association (pending 501(c)(3) status). Each year we've brought many hours of free family oriented entertainment to our community, and donated hundreds of pounds of food to local food banks. Help us continue to bring magic to you and our community. Whether it be just $1 or more, every little bit helps. We've even come up with some cool little perks for your generosity.
If you can't donate, you can share!
We understand not everyone is able to donate to fundraisers, but you can still help by sharing this campaign with all of your friends! The more people who see this in our community the more likely we'll reach our goal!
How will my donation be used?
Your donation will be strictly limited to producing the haunts. Examples of how donations would be used would include:  Obtaining materials to build the haunt, hire transportation for the haunt, production expenses, and more… for complete details of our material needs and how your donation may be used, visit www.GothicHillsCemetery.com/donate
There's something in it for you, too.
Check out our Fundraising & Donations page for details on our contribution rewards.
Follow us on social media for updates:
Facebook: https://www.facebook.com/GothicHillsCemetery/
Twitter: https://twitter.com/Gothic_Hills
Instagram: https://www.instagram.com/GothicHillsCemetery/